We Manufacture, Exporter & Supplier-Alloy steel WP11 Reducer,ASTM A234 WP91 Reducer, ASTM A420 WPL6 Reducer
We can manufacture two kinds of Pipe Reducer: Concentric Reducer and Eccentric Reducer.
Which are commonly used to change the pipe size or pressure in a piping system.
ASTM A234 WP11 reducers, ASTM A234 WP91 reducer, ASTM A420 WPL6 reducer are made of Alloy Steel seamless tube within the range of DN 15 – DN 1000.
Pipe Reducer Fittings Specifications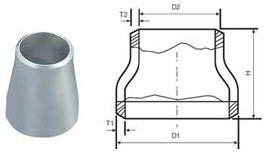 Nominal Diameter
Outside Diameter
End to End
D1*D2
DN
NPS
Series A
Series B
H
20×15
3/4×1/2
26.9×21.3
25×18
38
20×10
3/4×3/8
26.9×17.3
25×14
38
25×20
1×3/4
33.7×26.9
32×25
51
25×15
1×1/2
33.7×21.3
32×18
51
32×25
1.1/4×1
42.4×33.7
38×32
51
32×20
1.1/4×3/4
42.4×26.9
38×25
51
32×15
1.1/4×1/2
42.4×21.3
38×18
51
40×32
1.1/2×1.1/4
48.3×42.4
45×38
64
40×25
1.1/2×1
48.3×33.7
45×32
64
40×20
1.1/2×3/4
48.3×26.9
45×25
64
40×15
1.1/2×1/2
48.3×21.3
45×18
64
50×40
2×1.1/2
60.3×48.3
57×45
76
50×32
2×1.1/4
60.3×42.4
57×38
76
50×25
2×1
60.3×33.7
57×32
76
50×20
2×3/4
60.3×26.9
57×25
76
65×50
2.1/2×2
73.0×60.3
76×57
89
65×40
2.1/2×1.1/2
73.0×48.3
76×45
89
65×32
2.1/2×1.1/4
73.0×42.4
76×38
89
65×25
2.1/2×1
73.0×33.7
76×32
89
80×65
3×2.1/2
88.9×73.0
89×76
89
80×50
3×2
88.9×60.3
89×57
89
80×40
3×1.1/2
88.9×48.3
89×45
89
80×32
3×1.1/4
88.9×42.4
89×38
89
90×80
3.1/2×3
101.6×88.9
–
102
90×65
3.1/2×2.1/2
101.6×73.0
–
102
90×50
3.1/2×2
101.6×60.3
–
102
90×40
3.1/2×1.1/2
101.6×48.3
–
102
90×32
3.1/2×1.1/4
101.6×42.4
–
102
100×90
4×3.1/2
114.3×101.6
–
102
100×80
4×3
114.3×88.9
108×89
102
100×65
4×2.1/2
114.3×73.0
108×76
102
100×50
4×2
114.3×60.3
108×57
102
100×40
4×1.1/2
114.3×48.3
108×45
102
125×100
5×4
141.3×114.3
133×108
127
125×90
5×3.1/2
141.3×101.6
–
127
125×80
5×3
141.3×88.9
133×89
127
125×65
5×2.1/2
141.3×73.0
133×76
127
125×50
5×2
141.3×60.3
133×57
127
150×125
6×5
168.3×141.3
159×133
140
150×100
6×5
168.3×114.3
159×108
140
150×90
6×3.1/2
168.3×101.6
–
140
150×80
6×3
168.3×88.9
159×89
140
150×65
6×2.1/2
168.3×73.0
159×76
140
200×150
8×6
219.1×168.3
219×159
152
200×125
8×5
219.1×141.3
219×133
152
200×100
8×4
219.1×114.3
219×108
152
200×90
8×3.1/2
219.1×101.6
–
152
250×200
10×8
273.0×219.1
273×219
178
250×150
10×6
273.0×168.3
273×159
178
250×125
10×5
273.0×141.3
273×133
178
250×100
10×4
273.0×114.3
273×108
178
300×250
12×10
323.9×273.1
325×273
203
300×200
12×8
323.9×219.1
325×219
203
300×150
12×6
323.9×168.3
325×159
203
300×125
12×5
323.9×141.3
325×133
203
350×300
14×12
355.6×323.9
377×325
330
350×250
14×10
355.6×273.0
377×273
330
350×200
14×8
355.6×219.1
377×219
330
350×150
14×6
355.6×168.3
377×159
330
400×350
16×14
406.4×355.6
426×377
356
400×300
16×12
406.4×323.9
426×325
356
400×250
16×10
406.4×273.0
426×273
356
400×200
16×8
406.4×219.1
426×219
356
450×400
18×16
457×406.4
478×426
381
450×350
18×14
457×355.6
478×377
381
450×300
18×12
457×323.9
478×325
381
450×250
18×10
457×273.0
478×273
381
500×450
20×18
508×457
529×478
508
500×400
20×16
508×406.4
529×426
508
500×350
20×14
508×355.6
529×377
508
500×300
20×12
508×323.9
529×325
508
550×500
22×20
559×508
–
508
550×450
22×18
559×457
–
508
550×400
22×16
559×406.4
–
508
550×350
22×14
559×355.6
–
508
600×550
24×22
610×559
–
508
600×500
24×20
610×508
630×529
508
600×450
24×18
610×457
630×478
508
600×400
24×22
610×406.4
630×426
508
650×600
26×24
660×610
–
610
650×550
26×22
660×559
–
610
650×500
26×20
660×508
–
610
650×450
26×18
660×457
–
610
700×650
28×26
711×660
–
610
700×600
28×24
711×610
720×630
610
700×550
28×22
711×559
–
610
700×500
28×20
711×508
720×530
610
750×700
30×28
762×711
–
610
750×650
30×26
762×660
–
610
750×600
30×24
762×610
–
610
750×550
30×22
762×559
–
610
800×750
32×30
813×762
–
610
800×700
32×28
813×711
820×720
610
800×650
32×26
813×660
–
610
800×600
32×24
813×610
820×630
610
850×800
34×32
864×813
–
610
850×750
34×30
864×762
–
610
850×700
34×28
864×711
–
610
850×650
34×26
864×660
–
610
900×850
36×34
914×864
–
610
900×800
36×32
914×813
920×820
610
900×750
36×30
914×762
–
610
900×700
36×28
914×711
920×720
610
950×900
38×36
965×914
–
610
950×850
38×34
965×864
–
610
950×800
38×32
965×813
–
610
950×750
38×30
965×762
–
610
1000×950
40×38
1016×965
–
610
1000×900
40×36
1016×914
1020×920
610
1000×850
40×34
1016×864
–
610
1000×800
40×32
1016×813
1020×820
610
1050×1000
42×40
1067×1016
–
610
1050×950
42×38
1067×965
–
610
1050×900
42×36
1067×914
–
610
1050×850
42×34
1067×864
–
610
1100×1050
44×42
1118×1067
–
610
1100×1000
44×40
1118×1016
1120×1020
610
1100×950
44×38
1118×965
–
610
1100×900
44×36
1118×914
1220×920
610
1150×1100
46×44
1168×1118
–
711
1150×1050
46×42
1168×1067
–
711
1150×1000
46×40
1168×1016
–
711
1150×950
46×38
1168×965
–
711
1200×1150
48×46
1220×1168
–
711
1200×1100
48×44
1220×1118
1220×1120
711
1200×1050
48×42
1220×1067
–
711
1200×1000
48×40
1220×1016
1220×1020
711